Once again this year, I am blessed to have the opportunity to accompany an umrah group during March break, alhamdulillah. Registration is closing soon, so please don't delay if you're interested. We try our best to build an atmosphere of spirituality with gentle encouragement and guidance that touches the heart. We aim to make the journey a lot more fulfilling than just an empty series of rituals and sightseeing without any reflection and introspection. May Allah grant us sincerity and guidance to achieve our goals.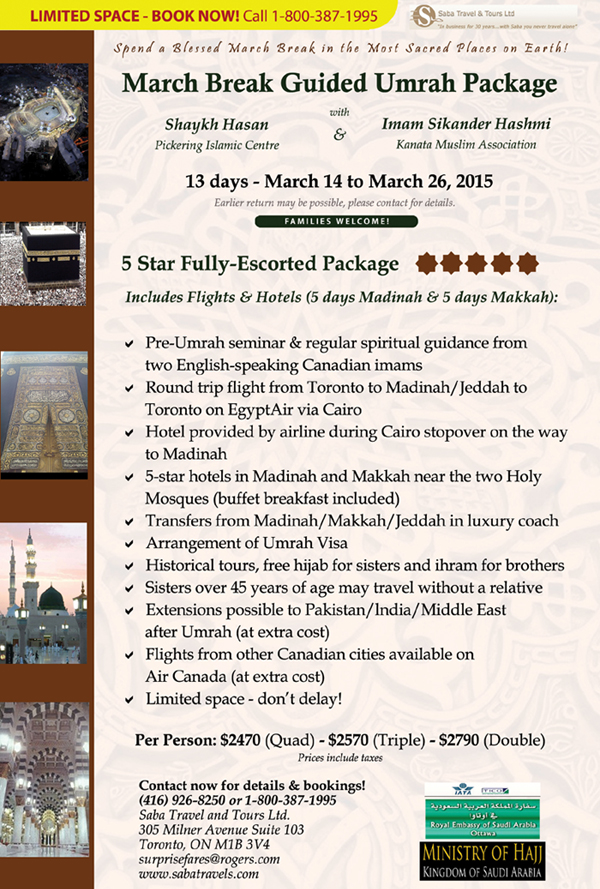 5 Star Fully-Escorted Package
✓  Pre-Umrah seminar & regular spiritual guidance from English-speaking Canadian imams

✓

  Round trip flight from Toronto to Madinah/Jeddah to Toronto on EgyptAir via Cairo
✓

 Hotel provided by airline during Cairo stopover on the way to Madinah
✓

 5-star hotels in Madinah and Makkah near the two Sacred Mosques (buffet breakfast included)
✓

 Transfers from Madinah/Makkah/Jeddah in luxury coach  
✓

 Arrangement of Umrah Visa 
✓

 Historical tours, free hijab for sisters and ihram for brothers
✓

 Sisters over 45 years of age can travel without a relative – please contact for details 
✓

 Extensions possible to Pakistan/lndia/Middle East after Umrah (at extra cost)
✓

 Flights from other Canadian cities available on Air Canada (at extra cost)
✓

 Limited space – don't delay!
Per Person: $2470 (Quad) – $2570 (Triple) – $2790 (Double)


Prices include taxes
Contact now for details & bookings!
Saba Travels and Tours Ltd.