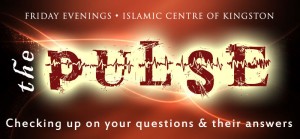 The Pulse is a weekly program held Friday evenings at the Islamic Centre of Kingston (Ontario) that discusses topics the Imam has been asked about recently.
March 4, 2011: Making Istikhara
What is Istikhara? What should it be made for? How? Should I feel anything or see dreams after Istikhara? Do I have to follow the result? Can someone else do it for me?
See also:
Coming up next week: Alcohol in Food and Consumer Products