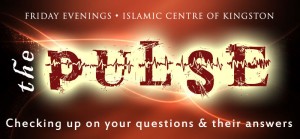 May 20, 2011: What is spiritual healing, protection and curing? What forms of treatment are permissible? What is ruqyah? How can it be used? What is the ruling on using amulets?
The Pulse: Spiritual Healing, Protection and Cures
See also:
The Pulse is a weekly program held Friday evenings at the Islamic Centre of Kingston (Ontario) that discusses topics the Imam has been asked about recently.