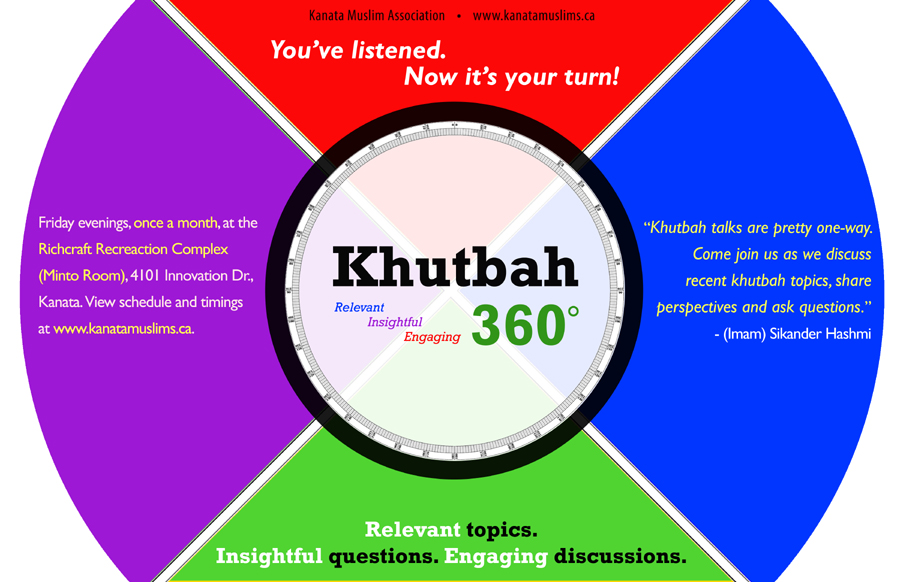 Session reviewing Khutbah talks on:
Khutbah360 Presentation PDF (09/19/2014)

Friday Khutbah, September 12, 2014 at the Kanata Muslim Association
With the launch of Apple's iPhone 6, we're once again reminded of Steve Job's legendary zeal for perfection. While our faith also teaches us to strive for perfection in all areas of our life, what should be our ultimate goal? We discuss excellence, work ethics and the driving force behind it all.
Pushing for perfection (Runs 29:59 ~ 11 MB)
Friday Khutbah, May 23,  2014 at the Islamic Centre of Kingston
Most of us try harder when we're given an incentive. For believers though, the entire test of life in itself is an incentive to excel. We discuss excellence and how the teachings of our faith should be propelling us above and beyond in every area of our lives, with specific examples.
Faith of excellence (Runs 31:05 ~ 7.11 MB)