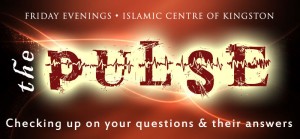 July 22, 2011: What are the essential rulings related to fasting? What are some of the things that break the fast? What are the basic requirements for valid intention of fasting?
The Pulse: Essential Fiqh of Fasting
The Pulse is a weekly program held Friday evenings at the Islamic Centre of Kingston (Ontario) that discusses topics the Imam has been asked about recently.