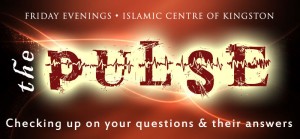 May 27, 2011: What is the importance of aqeeqah? How should aqeeqah be done and when? What type of animal can be sacrificed? Is there a particular method for holding an aqeeqah ceremony?
The Pulse: Aqeeqah – Sacrifice for Newborns
The Pulse is a weekly program held Friday evenings at the Islamic Centre of Kingston (Ontario) that discusses topics the Imam has been asked about recently.